My week has been full of fun! On Sunday we went to my friends capehouse and stayed over. We went kayaking, to the beach, and we went to walmart to get games to have a game night since it rained over night. My roommate met up with us after work since she lives near his house and we DOMINATED in Taboo!!!! I continue to find more things about her I love, we're really becoming BEST friends!
We ended up staying up all night and walking down to the beach at 5 am to see the sun rise (but instead getting attacked by sand fleas and mosquitos!) We drove home at 6, I slept for 2 hours, picked up an iced latte and went to work until 4. Staying up all night was the worst decision as far as trying to make healthy decisions… but when i got home from work I went to bed… at 5 pm and pretty much slept until morning.
On tuesday (the day before my birthday) I had all my friends over for a bonfire. My roomie came over during the day and we lounged by the pool, then took a nap! It's nice that she's a napper just like me! We had fun at the fire, and I told everyone instead of giving me presents to donate to CF (since my brother is running the Falmouth Road Race for it). I raised about 150 from my friends
AND I got the BEST present from my boyfriend! He made a scrapbook of everything me and him have done together over the past 4 years. I ABSOLUTELY love it! He did all kinds of layouts and got fun paper and stickers. It will be a nice thing to have at college next year when he's so far away. After the fire, a few Stonehill-ians slept over to go to boston for my birthday!
Yesterday (my birthday) the stonehill-ians, my boyfriend, and I went to Boston and had a picnic on Boston Common, we packed PB&J sandwiches and layed in the shade eating, talking, and listening to music. Then we walked to the Aquarium and got tickets to IMAX. While waiting for the show to start (we had an hour) we watched the Sea Lions outside. They are SOO cute and they act just like puppies! It was really hot out, so we went inside the airconditioned building where IMAX was and cooled off until the show started. We then watched Under The Sea 3D in IMAX. It was really cool though we were all falling asleep from being so tired from our slumber party LOL.
When I got home, I took a nap, and then went out to eat with my family. Since my brother has the same birthday as me, he got to pick where we went. We went to a pretty nice restaurant called Mia Regazza that a family in our town owns. It was DELICIOUS! And we managed to celebrate our birthday without any embarrassing singing to us.
So overall a great birthday for me! All I need is time with friends and time with family and I'm happy !
Me and John cooling off in the AC, waiting for the show to start!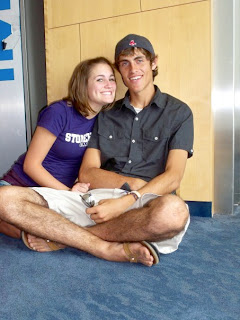 On the Phone wishing my brother a happy birthday!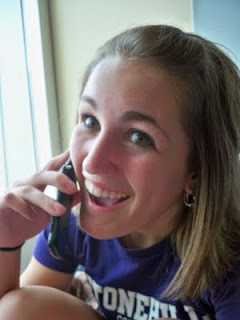 Me and Briana in our 3d glasses!
http://thesowhatlife.com