For my religion class, I had to write a paper about a moment of my life when I was in Awe. I would like to share it with all of you!:
I couldn't believe that, a year after Nana passed away, I saw her. She didn't have the short, curly, salt and pepper hair I remembered. She wasn't coughing. There were no wrinkles around her eyes and she didn't have that Nana smell. She had wings and she was with my Papa.
I was nervous coming home alone for the first time in fifth grade. My older brothers were in high school now, so they would be at football practice and I would be home for an hour until Dad got home from work. I wasn't as nervous as my mother though. What mother wouldn't be nervous for her youngest child, her only daughter, coming into an empty house for the first time?
I walked home from the bus stop with my two friends. I said goodbye as they went to their respective houses, and I walked up the path to my door. Lining the path were beautiful flowers, remnants of the summer, the pride of my father the gardener. They were a rainbow of colors purples, pinks, greens, and yellows perfectly illuminated by the unclouded sun. I still recall their scent, the pollen stinging my nostrils in the brisk September sun.
The flowers were moving. No, the butterflies on the flowers were moving. They flew all around me, pollenating the flowers, then taking time to fly past me. They were a beautiful orange and yellow. I felt their wings move the air around me. I couldn't even count how many there were: ten, maybe twenty. I had seen a butterfly or two on Dad's flowers before, but never like this.
I went inside to call Mom and tell her I was home safe.
"The weirdest thing happened," I said, "There were tons of butterflies on the flowers out front."
"Oh my God," my Mom said, "Nana and Papa are watching over you."
She explained that, on the day my Papa died, there were butterflies everywhere at his funeral. That summer, she was on the beach with my older brother, Danny, who was a toddler and her only child at the time. My father was over seas because he worked on ships. As a single mother for the day, she watched Danny getting close to the water and she got nervous. Then she saw a butterfly following him and she was immediately at ease. It was Papa watching him, making sure he didn't get hurt near the water.
My Nana had died a year before my encounter with the butterflies, when I was in fourth grade. It was the first time a loved one had ever died. I cried with my family as she took her last breath in her hospital bed at home. I was only ten years old and I didn't understand the grief and heartbreak of death until then. I thought about her often and I missed her witty remarks and her raspy laugh. She had her own ways of bugging us after she died. The song that played when she died always came on the radio at key times in our lives including when I was very sick in the hospital. We always say that the "DJ in the Sky" loves to remind us she's watching.
So, Papa has his butterflies and Nana has her songs. I never realized, though, that Nana was with Papa, her husband and her love, now, and that she would show herself with him. I fully believe that Nana was with Papa that September afternoon. I experienced emotions I couldn't comprehend. I teared up when my mother told me they were watching over me over the phone. The last time I saw Nana alive she was struggling to breathe, eyes closed, surrounded by people that loved her crying, but when I saw her with Papa she was free. I was in awe.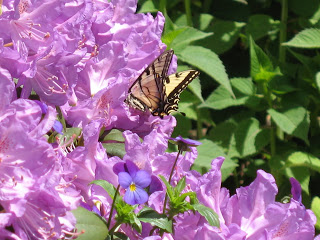 A butterfly on a flower in front of my house after my dog died
http://thesowhatlife.com