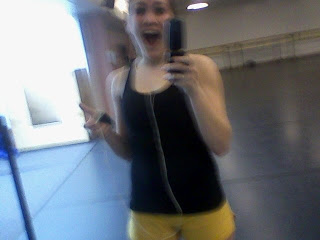 I was so excited that I had to take a picture!
I write to you immediately following my most productive day at the gym. My hands are shaking a little bit, my face is lined with salt/sweat, and my heart is pumping like there's no tomorrow. This is the proudest I have ever been.
My usual gym regimen is 2 miles on the treadmill then some stretching and ab workouts. Today, after seeing a girl complete 6 miles on the treadmill, I decided I would go for 3 miles. I rocked out to beyonce, buck cherry, lady gaga, and billy joel and just ran and ran and ran. After my third mile I bumped up the speed even more. I just kept going. After 40 minutes I had run FOUR MILES CONTINUOUSLY. I slowed down to a walk and walked slowly in a daze wondering how and why I did this. 2 miles is the most I've ever run in about 2 years and even then I had only done 3 miles once or twice for field hockey training. I was so proud to know that I could do it despite my lungs, and that being able to do this was directly related to my hard work.
Today, I went the extra two miles. Not only did I meet my goal, but I surpassed it, I doubled it. I challenge you to go the extra two miles today and in your life. Go out of your way to love twice as much, work twice as hard, or run twice as far. Today I learned that I can do what I thought was impossible for me. Don't ever give up because you think you can't do it. I bet with a little motivation, a little billy joel, and a whole lot of TRY you can surpass what you thought was impossible!
http://thesowhatlife.com