Today I had my clinic visit at Children's Hospital Boston. My mom and I went into Boston early to enjoy the remnants of the nice weather at Castle Island in South Boston. We had a great time (and a great workout) walking out to the "island" and around the fort. We just loved all the characters of Southie, all so friendly and proud!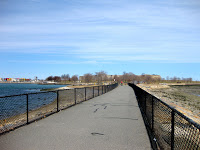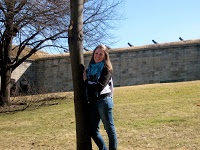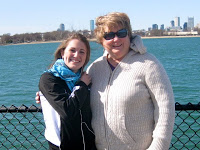 My appointment was great, PFT's were a little low but probably from all the junk being brought up into my upper airways from exercising so intensely. I feel great though 🙂 We even did the happy dance when my o2 sat hit 100% (thanks to all that fresh spring air i've been breathing)!!! We talked about the Aztreonam study for people with cepacia and I am going to participate! I'm excited to be able to be involved with a study for the first time since I was younger (I was in the TOBI study). Anything that will help my fellow CFers is totally worth the time!
On the other hand, I blew so hard during my PFT's that I popped a bunch of blood vessels in my neck and some near my eye. Just battle wounds from hard work. All in a days work!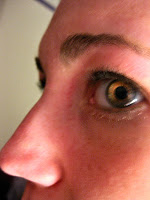 http://thesowhatlife.com