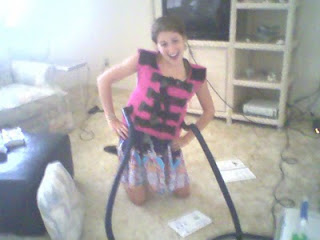 After a year of begging insurance for a new vest that I could easily bring along to college and on vacation, they finally came through thanks to a switch to Harvard Pilgrim. I was so excited to open the box delivered to my friend's vacation house to see my new portable HillRom vest in it's nifty little suitcase! Just makes my vacation that much more AWESOME, now that I can do airway clearance to its fullest potential! Here is a little poem I wrote to express my excitement…
Oh tiny, little vest machine,
how can you be so small?
I can pick you up and bring you anywhere
I know we'll have a ball.
You are so very functional
Just a few buttons to press
And pretty soon I'm shaking baby
In my new pink vest.
And when it's time to go somewhere
You know what I will do?
Just pack you up in my rolly suitcase
And we'll be off, just me and you.
I don't know what I did, my dear
Without a vest so cute
That big, old ugly one and I
Had far too many disputes.
It was always much too heavy
and always breaking down
But now I have you little vest
You'll never let ME down.
You make me so thankful
for new technology
Because of you little vest
I am happy and I'm free!
http://thesowhatlife.com