When my boyfriend reminded me that I hadn't posted in a while, I responded that I was too happy and having too much fun to be thinking about my blog. But then I realized two things A) That this is selfish to leave all my faithful readers in the dust (I apologize!) and B) That happy posts are the best kind, so why not rattle off 10 of the things that are making me smile. After all, smiling is contagious!
1) Vacation: I just went on THE MOST relaxing vacation with the BEST family (besides my own) to ever vacation with. My friend Hillary and her family make me feel like I'm one of their kids and their best friend at the same time. They are so sweet and fun and they made our vacation amazing. We had so much fun going to Siesta Key, Jetskiing, watching the Red Sox beat Tampa, and going out to eat at Sharkie's, a fun little restaurant on the Venice Fishing Pier. They were just as excited as I was about my new vest which was delivered to their house in Florida. I love having a "second family" who loves and supports me just as much as my own.
2) The People I Love: I got home from the airport to my parents and my boyfriend, Kyle. It was so great to see them after 10 days away! I couldn't wait to give my mom a hug and to tell them all the fun stuff we did in Florida. And I was missing Kyle who lives 2.5 hours away. He's so great and always makes me smile! I am truly a lucky girl.
3) My Friends: My friends from school all came down to my house yesterday and we had a little cookout and swam in the pool. I am really realizing what great friends they are and how lucky I am to have a group of good people who I can just have fun with and be myself. Plus laughing is such good airway clearance! In all seriousness, I love them all so much and I know we are going to be friends for life!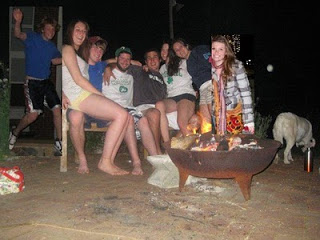 Briana (my roommate) Photoshopped her and Kyle in because they had left before the picture was taken!
4) My Health: My health is great and I have no complaints. Of course that makes me smile !
5) My Brothers: My big brother, Dave, got a job after months of searching once he graduated in December. I'm so happy for him to finally be able to start working in his field! As for my other brother, Danny, wedding plans are underway for him and his fiance. We've been waiting so many years for this to finally happen and now his wedding is less than a year away!
6) My Ipod: With so many new additions to my itunes library, I've been grooving all week long. I got a bunch of good country songs that are perfect for summer, some "hits" that are great for dancing, and Jack Johnson's new CD To The Sea, which has some great relaxing summer tunes. Music always makes me smile 🙂
7) My Job: I start work this week. I'm working at a doctor's office in Boston doing secretary-type work. I am so excited to be in a healthcare environment and to be working a "grown-up" job under one of Mom's good nursing friends who is amazing at what she does. Not to mention this will look great on my resume and I'm going to be getting great experience! I have nights and weekends off too so I get to see my friends and take trips to Maine to see Kyle!
8) New Clothes: I have a whole new wardrobe for my new job. Mom and I went shopping today and got so many cute outfits for work. My favorite item bought are my new bright pink cheetah flats! There's nothing like new clothes and shoes to put a smile on your face!
9) My Mom's Success: My mom is having great success with her diet and exercise! I keep calling her a "skinny bitch" as the weight keeps coming off every week. I am so proud of her lifestyle change. I love to see her smile when she tells me how much she lost this week, and when she's happy I'm happy!
10)The Weather: ITS SUMMER! Not only are my allergies finally under control but it has been beautiul! The sunshine always makes your day a wonderful one! I'm looking forward to going to the beach and enjoying the season
I hope this post finds you enjoying life, and even if you're having hard times, I hope you can look at the things that make you happy in your life and embrace what you do have to make you smile. Take a minute to realize what makes you smile today 🙂
p.s. I'm sorry for my overuse of the word "great" in this post. It was just how I was feeling I guess!
http://thesowhatlife.com