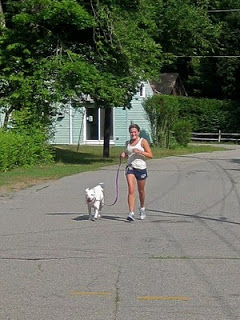 I have been running with my dog Meka for the majority of the summer, waking up early before work to run 1.5 to 2 miles depending on how I'm feeling and how much time we have. Meka knows when I wake up that its time to run and she gets all giddy and excited when she sees me grab my ipod. She's an excellent running buddy because 1) She LOVES to run and 2) She never gets tired. Plus her excited tail wagging is enough to get me going in the morning. I can keep my pace based on her little trot and she is always up for any distance or speed I'm willing to go.
Today, I decided we would do a harder 2 mile run than usual, going the route that involves a big hill at the end. There is a route around my house that we call the "Three Mile Loop," but today I decided we would do only 2 miles, the first mile of the loop in both directions.
I got my sneakers on and felt my toenail rubbing up against my toe. I could have run up to the bathroom and easily cut my toenail, but I was already all set to go so I figured I would just ride it out… once my feet went numb from the run I wouldn't even notice it.
I sat down to stretch, Meka laying on the ground waiting for a belly rub as I stretched my hamstrings. Then, I filled my water, put on my Country Playlist and we were off. About 2 minutes into the run, I made a split second decision: I decided I was feeling good, I had woken up extra early, so why not do the entire 3 mile loop today? Mind you, I haven't run three miles probably since the time I randomly ran 4 miles a few months ago (and just about died the whole day after). PLUS I hadn't run at all last week. Talk about easing back into it…
2 miles into the run, I was feeling good, even going up the big hill at the last mile. Meka was trotting along happily, ignoring the dogs barking from windows and back yards. I was sweating in the humidity, but doing good pacing myself and breathing regularly. But soon, the cramp set in, and soon I felt my lungs working hard, rubbing against my ribs. I stopped to walk for a second and looked down at my shoe. There on the toes of my shoe was bright, red blood, thanks to the sharp toe-nail digging into my toe.
Of course, being the Red Sox fan that I am, I immediately thought of Curt Schilling's Bloody sock. If you missed it You Can Read The Story HERE. Basically, he had a bad ankle injury, had surgery on the tendon, and still pitched Game 2 of the World Series. Halfway through the game, his ankle began bleeding through his stitches and into his sock, but he kept pitching and ended up winning the game for the sox. This was the epitome of doing your best despite pain and obstacles, and I felt a little like Curt this morning, running with my bloody shoe, pushing through the cramps and pain at the end of my run.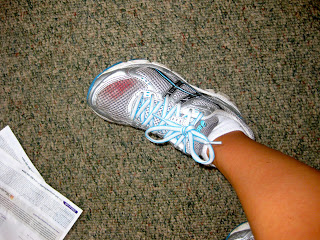 I kept saying "Come on Meka, almost there!"… Even though SHE should have been the one egging ME on! We pushed it until the end, rounded the corner to my street, and cooled down until we got to my house. I couldn't help smiling, so happy that I had gone the extra mile and that I could probably start building myself up to go even further. I woke my snoozing Mom up to tell her the good news. Then we took some sweaty, celebratory pics….
Me and MY Bloody Sock
Both of my brothers and one of my friends are running in the 10k Falmouth Road Race in less than a month to benefit CF. Though I usually cheer them on from the sidelines, this year, Kyle and I are going to jump in with one of my brothers and finish the race with them. I was originally planning on doing the last mile, but based on my ability to handle a longer distance than that, I may do the last 2 or 3. I'm hoping the atmosphere of the race will inspire me to really work hard next year to do the entire race (I say that every year!). I hope to someday do the whole race, and if I can keep it up, I hope next year I can finally say I have! As for now, I'll keep pushing the limit, and I'm DEFINITELY not washing that blood off of that sneaker!
http://thesowhatlife.com