This past Friday, I turned 21. To celebrate, 13 of my cousins and aunts went up to new hampshire to my aunt's condo. I cannot even begin to explain how much fun we had. We are all so crazy when we get together, and I mean CRAZY! We had so many laughs. I don't think there was a minute we were awake that we weren't chatting!
The funniest part of the weekend was our hike. Earlier in the day, some of the group woke up to go for a "short" hike to the waterfalls (I, myself, was in no condition to hike that early after such a wild night). That hike ended up being 6 miles, and everyone was ready to kill their "leader" but despite their fatigue, half of them joined us on a second dinner-time hike.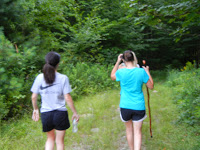 My cousin decided she knew a way to get up to this huge rock that could be seen up a mountain on the road. The fearless leader, she lead us through the trail marching with her professional hiking stick. 8 of us followed reluctantly, unsure if she knew where the hell she was going! Well, we get to a fork in the trail and we start to go right (UP!!) but then our fearless leader decides NOPE its definitely left. So we are walking for about a half hour when we come to a big pile of dirt. HERE IT IS!!! she says….. yeah right. We all laugh it off, 8 girls hiking through the woods can't even follow the right trail. So instead of just turning around, we decide to do some exploring.
We hike down another path, that looks like a logging road. At this point, we have no idea where we are in relation to that stupid big rock we were trying to get to, but we're with family, we're laughing, so we don't care!!! Soon enough, we come to a snowmobile trail map. The leaders (there's now 3 now that we're lost) "try" to read it, so we follow. Well, soon enough we come to a railroad track that leads under the highway!! "IT SAYS BIENVENUE A MASSACHUSETTS!" my sister-in-law jokes. Now EVERYONE no longer trusts our fearless leader…. but at least we are near civilization. We soon realize this railroad track is no ordinary railroad, its the HOBO Rail Road! A kids ride that takes off from Clark's Trading Post. We follow the railroad, taking in the cute little sights and finally, our leader runs ahead and says I SEE CLARKS!!! Who would have thought we would end up here?! How did we get here?! The laughing didn't stop. We watched the cute black bears until we could get a ride home, looking like 8 homeless people who just need some entertainment.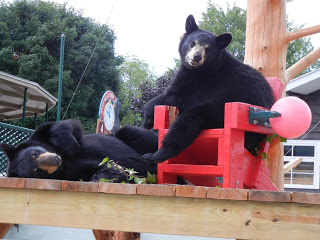 When we got back we realized instead of going straight up, we went all the way to the left, clearly missing our target. But sometimes, you just need to let yourself get lost, have fun! I couldn't have asked to be with a better group of people. When we get together, there's no stopping us! This weekend, we were the epitome of the quote "It's not the destination, its the journey!" When you don't have a map, a compass, or the ability to navigate the wilderness of new hampshire, you might as well make the best of it and that's what we did. I'm not sure the hike would have been as fun if we did in fact make it to the big rock. Life goes in all sorts of different directions, you might not end up where you thought you were going, you might miss your target completely. But thats not always a bad thing. Its how you got there that matters. Its all about the journey, and that hike truly was a journey, one that will probably live on in those moments where you reminisce about all those crazy times we had together.
"Remember that time we got lost in the woods and ended up at Clark's Trading Post playing with the black bears???" *commence laughter*
http://thesowhatlife.com