About 11,000 yes eleven THOUSAND people ran the falmouth road race this year. I was one of those 11,000.
The start line is packed, filled with bodies, some nervous, some excited, but all ready because as soon as that gun goes off, its go time. I squeeze Kyle's hand next to me; he's running the whole race by my side, even though he should be in the elite group according to his number. My mouth is dry even though I've had about 15 waters the day before, 5 the day of, and have already peed 5 times that morning. I'm nervous. I tell kyle I have to pee again but the line's too long. Like I said, I'm nervous. I sense tears coming as the national anthem plays over the loud speakers, but I hold them back cause I know it will make my lungs clench up and clog up my nose if I start crying now. I can't see much but a slimmer of the start line about 200 yards ahead, Kyle, and my brothers standing next to me. "Yup, there's a lot of people," Kyle says, looking back at the crowd. He picks me up and I gaze into a sea of bodies, just like my own, all about to run this race that has been on my mind every single run this year. Through the bodies ahead of me I spy a few royal blue running shirts… people running for cf just like me. I wonder how its touched their lives, I wonder how they are feeling right now, because I couldn't feel more supported, excited, inspired.
The gun goes off for the first wave, the elite runners and the orange group. We begin to inch forward when the fastest 4 minutes past and its time for us to start. As I cross the start line I think "This is it." I take inventory of my body. Shins? Feeling good. …I'm breathing, I don't have to cough. Good. One thing that never crosses my mind is how humid it is outside. That was my biggest worry about race day, I just hoped it wouldn't be humid. My hair is already frizzy, and I'm pretty sure I was sweating before the gun went off, probably somewhere around the 3rd pee trip. But that never crosses my mind, all I can think about is that I'm about to run 7.2 miles of a course who's terrain is not as familiar as the streets of my neighborhood and the immaculate sidewalks of my college. Kyle reminds me not to go out too fast as I'm smiling at the fans packing the streets, wanting to prove to every single one of them that cf won't stop me. Flaunting my Cystic Fibrosis Foundation shirt where I painted in, "I have cf, so what!"
On almost every run I'd gone on before this day, I'd imagine the race, imagine the looks on people's faces as I ran by. Transmitted their cheers through my headphones "You got this! Come on! Woo hoo!" But nothing could have prepared me for the overwhelming wave of energy that is coming from those fans. Almost everyone is clapping, smiling, singing, or cheering. I feed off of their positivity. "Keep it up! Let's go!" On the first 2 miles I notice the view, waves lapping up against the shore, Nobska Light framing the sky, hundreds of runners up ahead, taking it all in.
Only once do I say "I need to stop" and Kyle promptly tells me in his matter-of-fact way "No you don't!" So I keep treking up the winding hills, high fiving little kids, and dancing whenever we pass a boombox or a band. We check our time with the clocks at each mile, keeping about a 9 minute mile pace for the first few miles. Kyle keeps telling me how he can't stop smiling, rooting for me at every turn, being the amazing supporter he's always been.
At the 4th mile I feel a cramp from an orange I had enthusiastically eaten on the 2nd mile. I whine, wince, and began walking, coughing, and clutching my side. A girl in a purple shirt runs by, makes eye contact, and says "Here we go CF!" I'm still convinced she was an angel, I keep running.
Finally, we are at the final mile. I look to the fans and see two good friends in Stonehill purple who came to surprise me! This was enough to keep me going for the final mile!
We round the second to last hill to a sidewalk full of friends and family. The amount of people who were there to support myself and my family and friends was incredible. They line the sidewalk for a nice long stretch, so loud I can barely make out all of their words. I feel overwhelmed with support. Half mile to go.
The night before, we talked about the last hill of the Falmouth Road Race. My dad told me its murder. When I brushed it off as nothing I'd never done before, he said "Try doing it after 6 miles"
He was right, as usual.
The hill sucks, to be blunt. I can barely put on a smile for the photographer halfway, I feel my legs cramp up, my lungs tighten, the humidity moving in. When I get to the top, I gag up some of that orange. I walk, gagging, ignoring the crowd, searching desperately for the finish line. My friend's little sister runs by me at that moment and shouts "Come on Lauren you got this!" (Thanks girl btw! You were the reason I finished the race still running!) I keep running. The final 200 yards is the longest of my life but I have Kyle by my side, and there are rows and rows of people screaming. Finally, we cross the finish line. Kyle wraps an arm around me. We did it. We did the falmouth road race.
I felt an enormous sense of accomplishment at the end of the race. It was all too bittersweet to really comprehend. This road race may have single-handedly kept me out of the hospital for almost 2 years with all the training I did for it. Running may not have these results for all cf-ers, but I've seen it myself that it worked for me, and that Cystic Fibrosis Foundation shirt I had on was for the rest of the people who deal with cf, who may not be as lucky as I am at this point of my life, so we can find something that works to keep them and everyone with CF healthy.
Thank you to all who donated to Team CF's Falmouth Road Race Run, all who ran for CF. Thank you to every single person who, whether they knew me or not, cheered for me and helped me get through that race. Thank you to all the well wishers who couldn't make it, and the angels (and butterflies!) that flew above me. I'm not sure the race would have panned out the way it did, in the time it took (1:07:37), without every single person who I just mentioned. The day I ran the Falmouth Road Race, I realized how wonderful it is to have such a strong network of support, and I am so thankful for that. I also realized the beauty of a strong will, a positive goal, and a run along one of Cape Cod's most beautiful routes.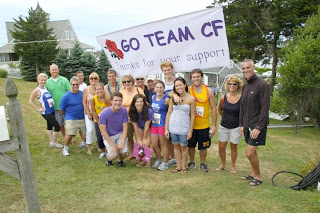 Some of the Team CF Fans and Runners
http://thesowhatlife.com