[To Mom, this is a warning to get your tissues. If I cried writing it, you'll cry reading it]
My blog has become very popular among parents whose children have CF. I have had several parents reach out to me seeking reassurance, advice, and wanting to get to know someone who, in the midst of bad news, might be able to give them hope.
With the assistance of my main man, and the CF Community's Most Popular and Awesome, Ronnie Sharpe, I have been able to speak to parents who are worried not only that their child has CF, but that they also have cepacia (the bacteria I have) and are worried about the negative connotations this bacteria brings. I always tell them that it is all about your attitude and your will to fight that will make CF and cepacia something their child can live with.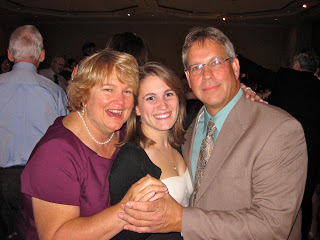 It gives me so much joy being able to show a parent that their child can live fully and beautifully with this disease. Though I've never been a parent of a CFer myself, I can only imagine the worry and confusion that comes with a diagnosis. It isn't easy learning that you may outlive your child, or that your child will always be different than the others. It certainly isn't easy being the lifelong caregiver of a child with a chronic illness, you can ask my Mom! From my prospective, growing up, my parents lives were full of doctors, sickness, hospital visits, sitting in traffic in Boston, questions, fighting with me to be compliant, and probably an unspoken fear of the future, which came through with their constant push to keep me healthy, no matter how much I complained and just wanted to be a normal kid. Despite all this though, their lives were and still are full of zest, filled with fun and laughter which always made for a great time for my brothers and I. And most importantly, their lives are also full of love. Love for each other and love for me and my brothers. No matter what we go through, they have never wavered in their love for us.
One example of how my parents showed their love and determination for never letting CF change the person I was happened when I was 13 years old. I've blogged before about being let out of the hospital to go to my 7th grade semi-formal, but that wouldn't have happened if it wasn't for what my parents did before. After learning that a student couldn't attend the semi-formal if they had missed school that day, we quickly realized that if I was going to be in the hospital that day I surely would not be at school. I remember crying to my mom saying "They aren't going to let me go!" To which she quickly swept into action. She ended up calling the principal of the school, and stepped onto the front porch to talk with him on the phone. I remember sneaking up next to the window and listening to what she said. "We have always made sure that Lauren is able to live her life to the fullest. We have worked hard to never let CF get in the way" and then went on to do some hard core convincing, and he agreed without much hesitation.
It is stuff like this that my parents have done all my life. Even if they never showed it, they made sure CF didn't get in the way. Going to the doctors was always an adventure ending in a delicious meal in a Boston restaurant or a tour through the Enchanted Village at Christmas time. If I fell asleep in the car, they would wake me so I got to see my favorite mural of the Whales on the highway on the way to Childrens. They lugged my vest on vacations, Dad getting searched at every airport checkpoint as airport security thought it was some sort of illegal contraption. They have celebrated each release of good news of new medications. I've seen the fury in Dad's eyes when a teacher refused to make accommodations for my absence from school, always ready to fight for me. Mom has sat with me at Friendly's multiple times after I wept over having to go in the hospital yet again, doing everything possible to keep me smiling despite how much I wanted to cry. Dad was always willing to cook me a delicious meal and deliver it 30 miles to Boston when I was sick of the hospital food. Mom held my hand through all those needle pricks and failed IV placements. Dad was the one who sped down Route 93 to get me to the semi-formal in time. They were at every sports game, no matter how much I sat on the bench because I was winded. They were on the sidelines cheering me on at the Falmouth Road Race. They have worked relentlessly to raise thousands and thousands of dollars for CFF. And they have always made me smile and laugh and appreciate life for what it is.
From what they made apparent to me, CF wasn't something that would take our family down. CF was something that would make us stronger… CF was something that we would fight against, and win.
What I'm getting at is, though it gives me a sense of purpose being a guide for these CF parents, the real credit goes to my parents. If it wasn't for the way they raised me, taught me, and supported me, I would never have learned to cope with my diagnosis the way I have. They are the ones who new CF parents should admire, they played a large part in shaping who I am. If it wasn't for them, I'm not sure how positive my attitude would be, how hopeful my outlook would be, and how strong my fight would be. Almost every ounce of my attitude is influenced by how they raised me. They never faltered in their fight to keep me healthy and more importantly, to keep me happy. It isn't easy raising a kid with a chronic illness, but my parents have and continue to succeed at it. And because of that… they are the strongest people I know.
http://thesowhatlife.com