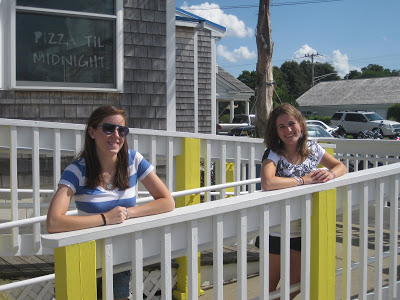 This weekend was special not only because it was my birthday weekend, but because I got to meet one of my good cysters, Andrea Ray . She came from Louisiana for a mini-vacation in Massachusetts, so Kyle (who was visiting for our birthdays) and I met up for lunch with her, her mother, and her sister-in-law. I was filled with nerves on the way to lunch, so excited that I finally get to meet one of my closest cysters.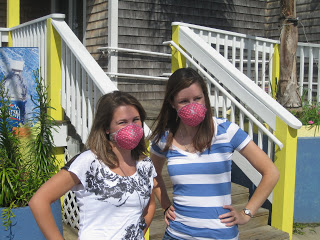 We're smiling big under those masks!
We got matching pink polka-dot masks to wear when we were closer than 3 feet, and followed protocol, sitting on opposite ends of the table and keeping our coughs covered well (I must have purelled my hands at least 3 times before meeting her). It was so amazing to sit down with a person who has a similar life as yours and just understand. We got a table inside as to avoid the smokers outside and we all talked about clean-outs, exercise, and how we both had to take our enzymes with our clam chowdah! I learned about their southern way of life, their sweet tea, cajun food, their hot summers and what little amount of snow they get in the winter. They learned about Boston's crazy drivers and harsh winters. We shared laughter and understanding when Andrea commented about her letter thanking her for being a "loyal customer"…. "Oh so I got a letter from CF pharmacy THANKING me for having CF…" Only a CFer could understand the sillyness.
Andrea is a lot like me, light-hearted, full of life, and a frequent smiler (but of course she has the cutest little southern accent). I am so thankful that I got to meet her and her family. They were so kind and welcoming and I felt like I've known them for years based on the experiences we have both shared. Meeting another CFer face to face is an unbelievable experience. For those of you readers who don't know, in this day and age, CF patients have to stay at least 3 feet away from each other because of the risk of passing on "cf bugs" to each other. So unfortunately, we aren't really allowed to hang out with the people who truly understand what you're going through. I am so thankful for the online community that we have through facebook, blogs, and websites like CysticLife (started by fibro Ronnie Sharpe and his wife Mandi). I've met some amazing people online who I can truly call my friends, and I hope some day I will get to have more experiences like this one and meet those people face to face. This day was such an amazing one, and I think more CFers need to experience what its like to meet a CF friend in person (while taking the necessary precautions of course!).
http://thesowhatlife.com