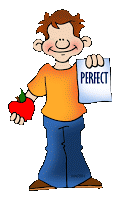 When I was younger, along with the honor roll and high honor roll awards, there was always the perfect attendance award. A flow of about 10 students would march up the stage and get their award for never once missing a day of school. I was never one of those proud students who got the perfect attendance award. In fact, I had probably missed more school than most. CF appointments, clean-outs twice a year, and days where I just felt like crap were all times that I didn't show up to class. I was used to make-up work, getting notes from friends, and the phrase "I must not have been there the day you talked about that" However, I was never one to skip school for no reason, all of mine were justified. Had I not had CF, I would have probably been right up there on that stage, never missing a day of knowledge.
Well, yesterday was my last day of classes. As I walked out of my last class at 5:00 pm, I had a little more bounce in my step, not because I had just nailed a presentation with my group, but because leaving that final class meant that I had made perfect attendance for the first time in my life. On every course evaluation form there is the question "How many classes have you missed?" and for each of my 5 courses I got to fill in the "None" bubble. This is something most people probably take for granted. Never having an excuse to miss class is something to be very thankful for. Today, I am thankful for the fact that I have been so healthy this year.
I was lucky this semester that I didn't have classes on thursdays, meaning I could make it into my study and CF check up appointments on that day off. However, not once was I too sick or too tired to go to class. Not once did I need a clean-out (I'm coming up on a month past the year mark!). I had no excuses to miss class this semester, and thats something that is hard to say for a CFer.
Though they don't give us awards in college, just knowing that I was able to be a perfect attendance student for just one semester is rewarding enough. My perfect attendance is another reminder of how important compliance and exercise are. I fully believe that the combination of cayston and the strength exercise and yoga have given me has made my immune system stronger and my lungs tougher fighters. We'll see if my lungs have it in them to go another semester in good health! And even if they don't, this proud moment is good enough for me!
http://thesowhatlife.com