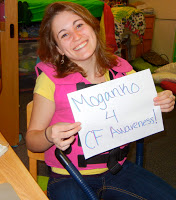 Never have I met someone so committed to cf awareness as my good friend Josh. I can't begin to explain what a cool guy Josh is, he keeps in touch with so many members of the CF community, inspires parents and children alike, and is so genuinely connected with so many people. Not to mention, Josh is amazingly talented with singing and song-writing and has a HILARIOUS sense of humor. I wish I knew Josh when I was younger because his videos help to keep kids compliant, help them deal with the realities of CF, and help parents to find creative ways to get their kids educated and involved in their care.
One of my favorite videos Josh has done is his "Take Your Pills" music video. I force my roommates to listen to it as I swallow down my 10 morning pills, and it then gets stuck in their head for the rest of the day.
Seriously though, this is the stuff I needed when I was a little kid. If my mom could have showed me Josh and Moganko singing about how important it is the take my pills, it may have clicked a little earlier than high school. Josh is making a big impact in helping new CF parents keep their kids healthy and compliant. Plus, kids get to see that they aren't alone in their fight! This goofy Josh guy has to deal with CF too, and so do lots of kids and adults around the world. It puts things into perspective.
I hope I convinced you to the awesomeness of Josh because HE NEEDS YOUR HELP!
Josh, who uses his puppet Moganko to promote CF awareness, also loves THE MUPPETS. He is trying to spread awareness of CF by working with the muppets, getting on their youtube channel, and hopefully getting a promotional public service announcement out there about CF. This is BIG STUFF that he's doing. In order to show your support PLEASE visit his website http://www.mogankoforcf.org/ and like his page on facebook . Josh is an incredibly inspiring person with so much to offer the world, he deserves to have his vision spread and supported. So, tell your friends, post on your blogs, help make Josh and Moganko world famous, and more importantly, help to spread awareness about the nature of CF, because the more people know, the more support we can have for kicking CF's butt!
http://thesowhatlife.com