This morning, I watched the Living Xtreme: Beyond Cystic Fibrosis documentary. If you haven't watched it yet, I REALLY encourage you to, ESPECIALLY if you have CF.
I loved seeing all of the incredible things people with CF are doing: surfing, martial arts, weight lifting, snowboarding, running. It made me so incredibly happy to see people REALLY pushing the limits. And while I'm proud of myself for the amount of running I do, it made me want to do MORE.
For the past month or so, I've been toying with the idea of running a half marathon. But I was holding myself back a bit. As you may remember, last year, I signed up for a half marathon in September. The August before the half marathon, I ran the brutally hot Falmouth Road Race and had fevers for a week (the second year this had happened). I decided then that it was in my best interest to hold off on the half marathon until I figured out what was going on with my body.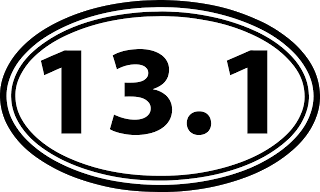 It killed me to "give up" on training. I knew it was in the best interest of my health, but I still told myself that this whole goal wasn't over yet. I'd do one in the spring time, when it's cooler, I said.
My senior year was too busy to ever do one in a spring… a lame excuse I made for myself. And as I started working full time, the excuses kept piling up. There isn't enough time. I'm too tired when I get home. 7 miles is enough.
And then, I ran the Run to the Rock 10K with one of my good friends last week. In our little pre-run goodie bag, there was an ad for a Marathon/Relay in Plymouth.
The Run to the Rock had a 5k, a 10k, and a half marathon all ending at Plymouth Rock. Coincidentally, the Great Strides walk we used to do ended in this very spot and I reminisced about those days walking all of those miles for a cure. Anyways, after we finished our 6 miles, ate our hotdogs, and got our free power bars, my friend and I stood at the finish line and watched incredibly in shape athletes finish their 13.1 miles. She told me how she wants to do a half marathon. I said "I'm not sure if I could do that." But I didn't rule it out completely.
I told myself I would "secretly" train for a half marathon… increasing my distance gradually and if I got there… I got there. If I didn't, then at least no one would know I even tried.
And then this week, I kicked up the distance a little more. I got up to that 7 mile mark and wasn't satisfied with staying there. I did the math and figured out how long it would take me to get up to 13.1…. the middle of November.
Which brings me to today. I watched that documentary and one of the stories almost made me cry. It was Brooks. He talked about how he had had 40% lung function, and decided he needed to start running. Now, he runs ultra-marathons: 100 miles. AMAZING! I thought about my own lung function, I thought about my own running, and I realized… I have to stop being so hesitant to do this. "Secretly" training for a half marathon is just giving myself an excuse to give up when I want to. With CF, there IS no giving up. So, I looked up that Marathon Relay race, found it was exactly the right number of weeks away from now to be ready for it, found a half marathon training plan (suggestions and tips are appreciated!) texted my friend who had run the 10k with me who quickly agreed to split the marathon with me (I'll do 13.1, she will do the other half!), and now I'm writing this blog to hold me 100% accountable.
You cannot be afraid to fail. You cannot hide behind excuses. If you want to reach your goals, start now….Here I go.
http://thesowhatlife.com