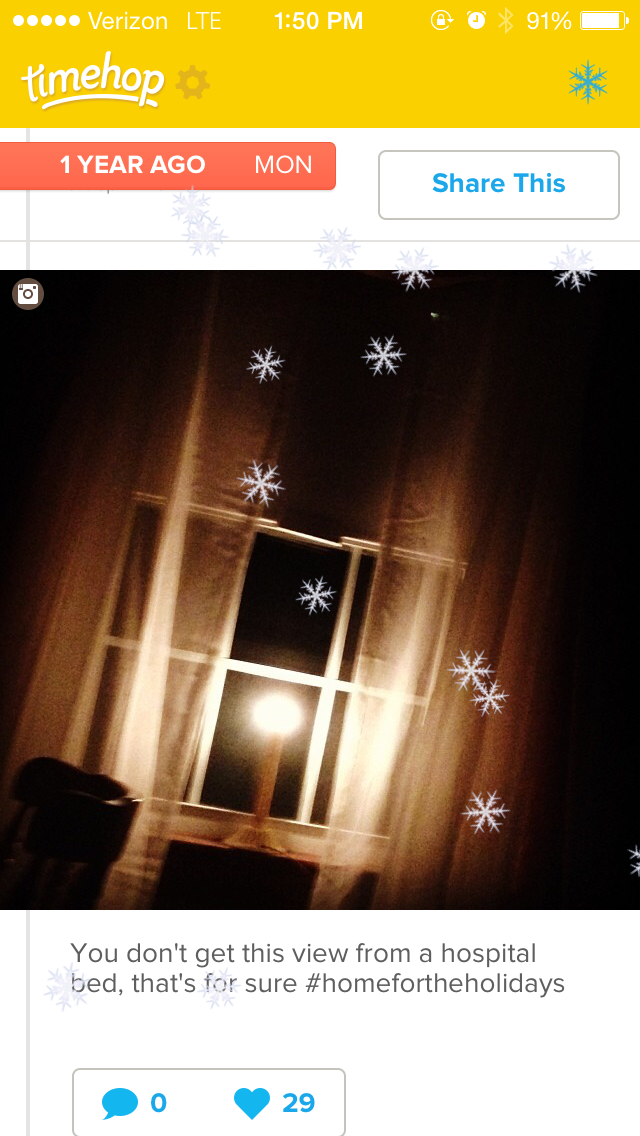 One year ago today, I wasn't driving in the car listening to Christmas carols, I didn't have all of my christmas shopping done, I wasn't swapping holiday gifts at work, I didn't even have an outfit picked out yet to wear at Christmas. One year ago today, I was signing my discharge papers after spending some time in the hospital with pneumonia. All I cared about, in that moment, was that I would be home for Christmas. It didn't matter that I was sick for the entire Christmas season, from Thanksgiving day to New Years. It didn't matter that I would spend another Christmas party pumping IV antibiotics into my arm. Regardless of that past month, regardless of how miserable I felt the weeks before, regardless of how scared I was that CF crept up with its sneaky tactics to knock me down… in that moment, being with family was all that mattered to me. Celebrating Christmas with some degree of normalcy was everything to me. My improving health was the greatest gift that Christmas.
So this Christmas, each light on the tree is that much more bright, each Christmas carol is sung that much more loudly, each breath is taken with a bit more gratitude. I am lucky enough to say that since that day, one year ago, walking out of the hospital with my mom, I haven't looked back. I am lucky enough to say that I have enjoyed a full year of good health, of running, of new treatments, and of course, a new found appreciation for that health.
It hasn't been all hunky dory, I have struggled with the realization of how much that pneumonia set me back. I have come to terms with a new "baseline," watching my PFTs remain stable, but nowhere near the (high) numbers I saw before I got sick. I have had to work hard, motivating myself even more to keep up a solid running routine, making choices that would be beneficial for my health in the end, letting go of stressors in my life, and embracing a life that can change in an instant. Last year made me realize what a tricky, unfair disease CF is; it brought me back to reality and forced me to realize that I can't always escape it's clutches; that this life may never be "normal," no matter how hard I might try.
But, a year later, it has forced me to enjoy every bit of health, because life can change in an instant, nothing is guaranteed, and you never know how strong you are until you don't have a choice. Today, a year later, I went on an extra long run on my lunch break. Tomorrow, I'll wake up and go to work, I'll leave work early and go to my parents'. I'll celebrate Christmas with my family, opening presents, drinking, eating, and laughing. And, although Christmas happens every year, although this routine of mine is neither extravagant, nor out of the ordinary, it will simply be that much more special.
http://thesowhatlife.com